On the search for the best dumplings in Connecticut brings us to Shu Restaurant in West Hartford.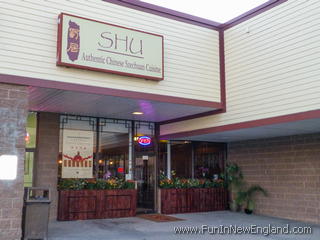 These dumplings.
I've gotta say, these dumplings are amazing.
But you can't get a good picture of them at all, especially not in a to-go order (because, pandemic).
Each dumpling in the order is in a silky wrap whose wrapper is just thick enough.
This restaurant is Sichuan style cuisine, so there is lots of heat and chile peppers in many dishes.
These Seven Flavor Wontons are no different.
The sauce these float in is garlicky with a good amount of mid-tongue heat.
When you get them inside the actual restaurant, the wontons are stacked in the middle of a bowl and covered in the excellent sauce.
For takeout, it seems the sauce is added first and the the dumplings put on top.
So you have to stir it up to cover each wonton in the sauce. I even pour the leftover sauce on top of rice.
It's wonderful.
A lot of other foods here at Shu are good, some very good, one or two are excellent.
But these seven flavor wontons, and quite likely the best wontons in Connecticut.
The Rating:
9/10
https://www.instagram.com/eatthisct/
Address: 156 Shield St, West Hartford, CT 06110
Open everyday at 11am
Menu
Phone: (860) 519-1740