On the search for the best wings in Connecticut brings us to The Hidden Still in Ellington.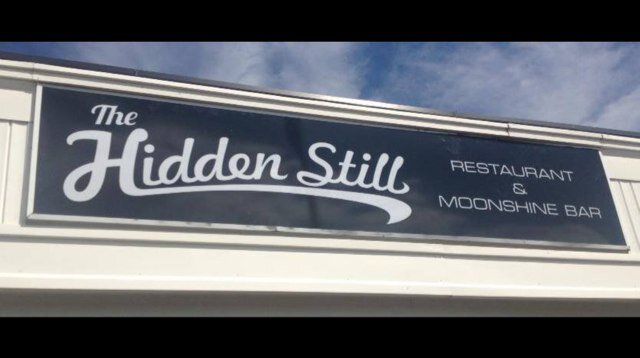 Ah the Hidden Still. That's what I have to say.
Any serious list of the best wings in CT would have to include The Hidden Still.
The place is very surprising.
First, it is way out in the middle of nowhere.
But once you walk inside, it feels like the kind of bar you're gonna get good wings at.
We tried two flavors, the Insane Wings and the Smoked Garlic Sriracha.
Insane Wings
These are the third hottest out of five levels: Buffalo, Buffalo Hot, Insane, Reaper, Death Sauce.
Not wanting to try the hottest, and still uncertain about Reaper (although Cheeks Chicken & Waffles taught me better), we opted for the Insane.
The Insane wings have a nice smoky heat that warms the back of your throat.
The chicken itself is extra crispy that adds a nice crunch.
The wings are also meaty, which is nice.
The buffalo sauce is not the standard Franks, but a less vinegary and more rough, chile pepper flavor.
Not just franks and cayenne here, but a unique, medium hot, chile pepper-y sauce.
Excellent.
The Rating, Insane Wings:
8/10
Smoked Garlic Sriracha Wings
Dirt. If you like your red wine very earthy (like heavy Syrah's), this wing will taste familiar.
These I did not get extra crispy, and I regret it.
These wings don't have a hint of garlic, they are completely covered in smoked garlic.
They have an even earthier taste than the insane wings.
The smoked earthyness from the garlic and sriracha is almost overpowering.
Almost.
Instead, the wings are wonderful. Nice mild heat, powerful smoked garlic flavors.
Just a joy to eat.
The Rating, Smoked Garlic Sriracha
8/10
The recommendation
Go for spice and something with some sweetness to it. The wing sauces have an earth character that is great but if cut with honey or teriyaki might be even better.
https://www.instagram.com/eatthisct/
Address: 87 West Rd, Ellington, CT 06029
Opens 12pm
Closed Mondays
Menu
Phone: (860) 896-3333