On the search for the best BBQ in Connecticut brings us to Bears Smokehouse BBQ in Hartford.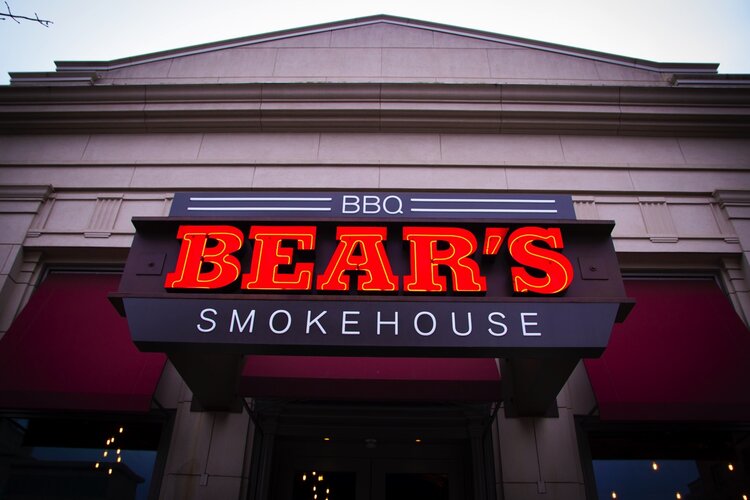 So there is a lot of food choices at Bear's, and I've eaten almost all of it.
But this post right here is going to be dedicated to the brisket.
Now the title of the post isn't brisket, it's brisket (from the fatty half).
Brisket comes from the first bit of meat above the front legs.
Technically, this is kind of the cows pectoral (chest) muscle.
The brisket muscle has two parts to it: the flat cut and the point cut.
The flat cut is lean and found near the front of the cow, under the neck.
The point cut is closer to the belly, and is much fattier.
When you go to BBQ restaurant and order brisket, you will almost always be served it from the flat cut.
I'm not sure why this is the case.
If I were a gambler, I'd bet it was because people think they don't like fat.
If you cut it from the fattier end, some people would complain. "Ew, I don't like fat".
They are wrong.
The fatty cut is where the flavor is.
Ever try burnt ends? That's the fattier point cut.
So here, at Bear's, we review the brisket (from the fatty half).
The Brisket:
The rub on the brisket is great, and the meat is expertly cooked.
The bark is thick and has a nice balance of flavors.
When you eat the lean end, the brisket is a bit dry, and needs BBQ sauce.
But the fatty end? That stays good the whole way through.
The rating:
Brisket from the fatty half is juicy with a thick well balanced bark. It is a must-try from Bear's.
7.5/10
https://www.instagram.com/eatthisct/
Multiple Locations:
25 Front St. Hartford (860) 785-8772
2152 Poquonock Ave. Windsor (860) 785-8772
470 James St. New Haven (203) 350 – 9060
454 Ellington Rd. South Windsor (860) 785-8772
Call to Order