On The search for the best hot chocolate in Connecticut brings us to Mystic River Chocolate Cafe in Mystic.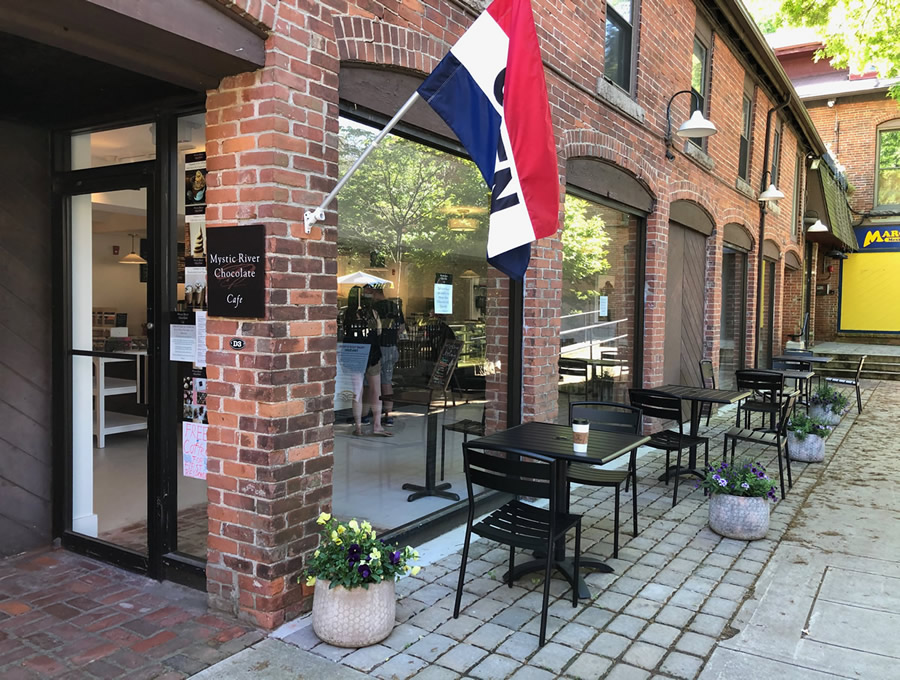 This cute little place nestled in an alcove seeps of class and elegance.
The drinking chocolate is kept in a warm swirling machine like those slushy machines. The purpose is to keep it warm and ready.
I was warned when ordering the drinking chocolate: "After drinking this, you won't have a chocolate craving for a while".
They were right.
This is drinking pure chocolate. I think the ratio of chocolate to milk is 3:1, which is ridiculous.
It's actually too much.
The natural bitterness from the chocolate is not blended with the milk, meaning the whole thing becomes hard to drink.
It's a sipping chocolate at best.
Not hot enough to warm you on a cold day, not sweet enough to bring you back to childhood.
It's a "hot chocolate" for people who aren't going to drink a hot chocolate anyway.
It's a hot chocolate for grumpy adults. High quality chocolate but not the taste you want.
The rating:
6.5/10
The recommendation:
I even got a box of their Hawai'ian truffles. I've been to Hawai'i a few times, and hadn't heard they had particularly good chocolate. Turns out, they don't. None of them were any good.
The Macadamia nut truffle was chalky with no cocoa flavor at all. Mostly just macadamia nuts (4/10).
The While Chocolate Hawai'ian Vanilla Bean was mostly just cocoa butter with a tiny bit of off-tasting vanilla (5.5/10)
The best was the Dark Kona Coffee, with some light coffee flavor of the Kona variety that blended decently with the dark chocolate (6/10).
So overall? This place is very cute and feels very fancy, but the chocolate, at least not the drinking chocolate nor the Hawai'ian Truffles live up. Maybe I'll try something else here if you happen to be right in the area.
Address: 12 Water St. Mystic, CT 06355
Closed Tuesdays
Phone: (860) 910-1914