I've already reviewed what I maintain is the best dish at Bear's, the brisket from the fatty half.
And while there are other dishes at Bear's I could review, although I am less excited about them, there is one I think deserves some mention.
The Pork Belly Burnt Ends.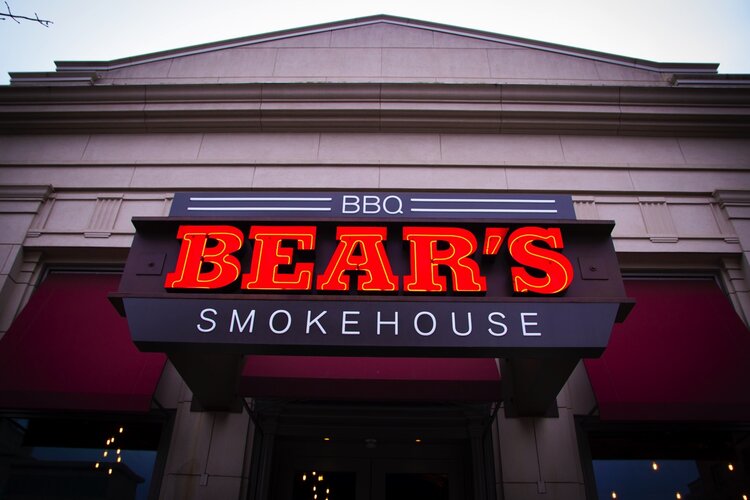 Pork Belly is the the underbelly of a pig.
When you take that belly and cure it in salt, it becomes salt pork.
When you take that belly and cure it then smoke it, it becomes bacon.
So when you just smoke that belly but don't cure it, it becomes burnt ends.
In the post about the excellent brisket from the fatty end at Bears, we learned how the brisket part of the cow comes from their "chest" around their front two legs on the torso.
The point cut was the part of the brisket further back towards the belly. The fattiest part of those closest to the belly? Burnt ends.
Here the Pork Belly Burnt Ends are cooked to perfection.
They are very sweet, however. Almost sticky.
For those who don't think they like pork belly, or those who are unsure, these are an excellent introduction.
There are no hard or gelatinous chunks of fat.
The best to fat ratio is well distributed throughout as well.
Unfortunately, these only seem to be available on Tuesdays in December, so get them fast.
The Rating:
With the way these are perfectly cooked, even skeptics of pork belly should be won over. They may be too sweet, but otherwise wonderful.
7.5/10
https://www.instagram.com/eatthisct/
Hartford Location:
25 Front St.
(860) 785-8772
Windsor Location:
2152 Poquonock Ave.
(860) 785-8772
New Haven Location:
470 James St.
(203) 350 – 9060
South Windsor Location:
454 Ellington Rd.
(860) 785-8772